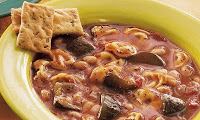 1 small onion, finely chopped
2 medium zucchini, halved, cut into 1-inch slices
2 (14 1/2-oz.) cans ready-to-serve vegetable or chicken broth
1 (28-oz.) can crushed or diced tomatoes, UN-drained
1 (15.5-oz.) can great northern beans, drained, rinsed
1/4 teaspoon salt
1/4 teaspoon pepper
1 tablespoon dried basil leaves
1 (8-oz.) pkg. uncooked dry cheese-filled tortellini
In your Celebrating Home Bean Pot, combine all ingredients except basil and tortellini; mix well.
Cover; cook on 325 for 2 hours.
About 20 minutes before serving, stir basil and tortellini into stew. Increase heat setting to 375; cover and cook an additional 20 minutes or until tortellini are tender.