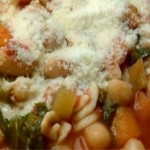 •1 lb. steak, round (cut in 2 pieces., lean)
•6 c. water
•28 oz. tomatoes, canned — cut up, un-drained
•2 beef bouillon cubes
•1 onions, medium, chopped
•2 T. dried parsley
•2 celery, stalks
•1/2 tsp. salt, (optional)
•1 tsp. thyme
•1/2 tsp. pepper
•1 zucchini, medium, thinly sliced
•16 oz. beans, garbanzo, canned, rinsed & drained
•1 c. Kale
•1 c. elbow macaroni, or small shells
•1/4 c. cheese, Parmesan, grated (optional)
Combine beef, water, tomatoes, bouillon, onion, parsley, celery, thyme, salt if desired and pepper and place in the Bean Pot.
Cover. Cook on 325 for 1 hour or until meat is tender.
Add zucchini, beans, kale and macaroni; cook on 375 covered for 30 minutes more, or until the vegetables are tender.
Sprinkle individual servings with Parmesan cheese.