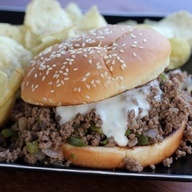 1 tablespoon extra virgin olive oil
1lb ground beef
1 medium onion (chopped) or 1/2 cup of frozen already chopped
1 medium green bell pepper (seeded and chopped) or 1/2 cup frozen chopped
¼ cup steak sauce
1 cup beef broth
salt and ground black pepper (to taste)
1 pkg of Shredded Mozzarella Cheese or sliced Provolone
4 hamburger buns
In your bean pot, put olive oil (vegetable will work as well) bell peppers, onions and hamburger. Put the lid on and microwave for 5 minutes. Remove and crumble. Repeat until hamburger is slightly pink, mostly brown. If there is a lot of grease, remove most of it at this time, then add beef broth and steak sauce and heat for another 4 minutes. Remove lid and serve on rolls sprinkle a good amount of cheese and then top with the rest of the roll. Serve and enjoy!