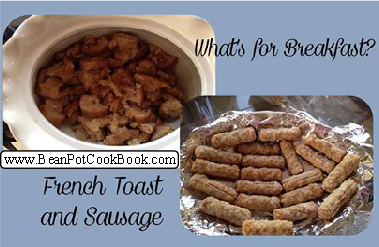 Ingredients:
10 slices bread (cubed)
5 eggs
1/3 cup milk
Cinnamon and nutmeg
Pancake syrup
Sausage links
Directions:
Place enough bread in Bean Pot to fill halfway.
In a bowl, whisk eggs, milk, dash of cinnamon and nutmeg together.
Pour mixture over bread.
Squeeze pancake syrup over top of mixture making an "S" shape in both directions.
Cover with foil and twist to make handles on each end of bean pot.
Place sausage links on foil.
Bake at 350 degrees for 45 minutes.